Accommodations in Valencia
Valencia is the quintessential Mediterranean city in Spain. It is a pallet where the paints of tradition, modernity, culture and gastronomy are all mixed together; a perfect destination for a long term study experience as well as a place to soak up the real culture of Spain and learn more about the traditions which rule here. With this in mind, we offer the following types of accommodation to make sure that your stay is a comfortable one, no matter how long the course you choose may last.
Home stay accommodation gives you the chance to experience life in a typical Spanish household, and you might even have the chance to taste some home cooked paella! The host families who look after our students in this option are very carefully picked and are only the most friendly and welcoming of families, allowing you to feel right at home as soon as you arrive so that you can settle in and start your studies very comfortably. They will allow you to practice your language skills with them in a very effective way as they are used to being around language students, and you will also find that they are able to give you some great advice about where to go and what to see in the city.
Alternatively we offer student residence and dorm accommodations with other students from the school, which can allow you to mingle with others who share your interests and who may be taking part in the same course as you in a different group, so that you are able to practice your language skills with them and get a lot more experience of using the language during your stay than you would otherwise. These can also be great people to get out and explore the surrounding area with, which will really help you to get more out of the experience as a whole and enjoy yourself every single day while you are in Valencia.
On the other hand, if you are not a fan of sharing your living space with other students or if you are looking for a more independent lifestyle then we also we offer a fully equipped shared apartment. This will allow you to live in a more normal way, just as if you were in a shared flat at home, and will allow you to come and go as you please with your own space to return to at the end of the day. You will also still be able to meet new people with this option as there will be others in the apartment, which means that you will not feel lonely while you are on your course and there will always be someone around to chat with. On top of this, we offer different options for most of our accommodation types so that you can choose the set up which is going to be best for you, helping you to settle in and feel comfortable as soon as you arrive.
Accommodations in Valencia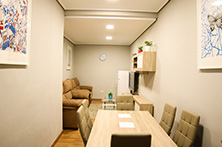 The Dorm
Private Apartments
Accommodation Prices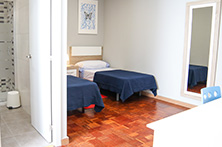 The Dorm Prices
Private Apartment Prices