Granada Attractions & Highlights
La Alhambra
Considered one of the word's modern wonders, the Alhambra is a spectacular Muslim fort-palace, a majestic reminder the city's rich Arab history, and a fine excuse to learn Spanish in Granada especially if you're into real culture. Intricately detailed ceilings and walls, beautiful fountains, unique sculptures and a vast garden make this Europe's most exotic destination and Spain's most visited.
Mirador de San Nicolás (San Nicolás Viewpoint)
Grab your camera and head to the Mirador de San Nicolás for photos that are sure to impress. This viewpoint, named for the church located nearby, is THE place to go for absolutely unbeatable views of the Alhambra set against a backdrop of the Sierra Nevada mountains. You'll find it high up in the Albaicín neighborhood; it requires quite the climb to get there, but the spectacular vistas are well worth the effort!
The Cathedral and Around
The Catholic half of Granada's history is emobodied by its vast Renaissance-style cathedral. Buried in the adjacent Royal Chapel are Fernando and Isabel, the "Reyes Católicos" who famously financed Columbus's voyage to the new world. Surrounding streets are closed to traffic, so you can discover enchanting alleyways while listening to flamenco guitar players that dot the sidewalks.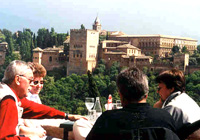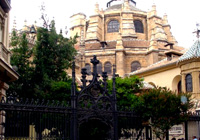 El Albaicín
Spain's largest surviving Moorish barrio, the Albaicín's rambshackle medieval streets hold more character than entire cities. Its narrow, winding paths hold flamenco locales, outdoor cafes, a variety of restaurants and great hilltop views of the Alhambra.
Tapas & Nightlife
In a country packed with tapas bars, Granada reigns king. When you order any kind of beverage at bars, it will come accompanied by a free and generous tapa like cheese, ham, olives, fried eggplant, small toast with toppings and much more. As if free food couldn't be beat, the city has a surprisingly lively nightlife despite its moderate size. This is largely due to the active university scene, just another aspect that makes Granada a great place to study Spanish.