LEARN IN GRANADA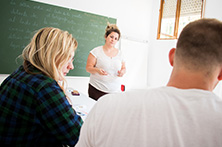 Our expert teachers and staff have carefully designed a wide range of courses over the years to offer options as unique and special as Granada. Prepare for official Spanish proficiency exams, enjoy a gap year learning a new language, create a completely personalized program or do an incredible internship at a Spanish or international company. Oh, and we can't forget our signature intensive courses, perfect for learning Spanish quickly and accurately. You will love your Spanish learning experience in Granada!
At Enforex Granada you can choose between two intensive programs designed to take your Spanish to the next level! You can choose our Intensive course, which offers 20 hours of lessons per week, or you can choose Intensive Plus, which offers 20 hours of general Spanish plus five conversation lessons per week. Take your classes further by adding specialized Spanish classes and participating in activities.
Come with us and discover our special courses, those that will help you learn Spanish in a different way: your Gap Year will be the best year of your life, plan a personalized group trip for your students or take private classes tailored to you. There are so many opportunities!
You are just one step away from certifying your level of Spanish! All you have to do is sign up for a prep course with us. With a success rate of over 95%, our expert teachers will prepare for the DELE and SIELE exams quickly and efficiently that will ensure the best results. Don't miss out on this great opportunity!
The following Spanish courses are offered in Granada for you to choose from, and as you can see there are a lot of different options. Please use the links below to consult complete program information if you would like to know more about any of the options, and to find out which of them is likely to suit your needs the best: