Learn Spanish with native Spanish teachers
Granada is the perfect destination to improve your language skills – just being here will inspire you to use Spanish to get to know the city as much as possible. To immerse yourself completely, check out our various courses tailored to fit your needs. You will feel right at home with our qualified teachers interested in your success, helpful faculty, and other international students enthusiastic about learning Spanish.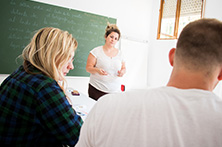 Our expert teachers and staff have carefully designed a wide range of courses over the years to offer options as unique and special as Granada. Prepare for official Spanish proficiency exams, enjoy a Gap Year learning a new language or create a completely personalized program.
Oh, and we can't forget our signature intensive courses, perfect for learning Spanish quickly and accurately. You will love the learning experience that our Spanish courses in Granada offer you!
At Enforex Granada you can choose among four intensive programs designed to take your Spanish to the next level! You can take our Intensive 10 and 20 for a few teaching hours per week, or opt for the Intensive 25 or Super Intensive 30, which offer culture and conversation workshops as well. Take your Spanish one step further by adding specialized courses and participating in activities!
Come with us and discover our special courses, those that will help you learn Spanish in a different way. Your Gap Year in Granada could be the best year of your life. Plan a personalized group trip for your students or take private classes tailored to you. Have you considered treating yourself to a different kind of holidays with our Winter Program? There are so many opportunities!
You are just one step away from certifying your level of Spanish! All you have to do is sign up for one of our prep Spanish courses in Granada. With a success rate of over 95%, our expert teachers will prepare for the DELE and SIELE exams quickly and efficiently. Ensure the best results!
Granada is full of students aged 14-18 who wish to live a cultural and linguistic experience with other students their same age. Our Junior Program combines unique cultural and sports activities, excursions and Spanish classes taught by engaging professors.
Intensive Spanish Courses
Specialized Spanish Courses
Official Exam Preparation Courses
Junior Spanish Courses