Visit Granada During...
April: Easter Week
All throughout Andalusia, Spaniards pull out the stops for Semana Santa, also known as Easter Week or Holy Week. Despite the intense religiosity of celebrations - elaborate floats with images of the Virgin and Christ are paraded through town to represent the stages of the Passion - the event is by no means somber. Street parties and good spirits pervade the air. It's an enthralling time to study Spanish in Granada from a cultural perspective.
May: Las Cruces de Mayo
Every year during the first week of May, Granada celebrates the festival of Holy Crosses. Large crucifixes adorned with colorful flowers serve as the focal points for festivities around town, with traditional music and dancing in the streets. Granadinos also decorate thier balconies and patios with floral arrangements, creating a vibrant setting for crazy partying.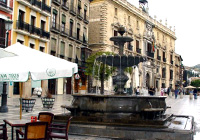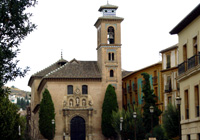 May-June: Feria de Corpus Christi
Another Andalusian-wide event, the Corpus Christi festivities mean week-long bullfights and yet another excuse to party!
November: Festival de Jazz de Granada
Granada hosts one of Europe's most established Jazz Festivals every autumn. Concerts last the whole month with a varied program of Spanish and international musicians.