Study Spanish in Granada, Spain
Located in the south of Andalusia, Granada has long been one of the most popular tourist destinations in Spain, both for Spaniards and for foreigners. One of the last Muslim kingdoms to be conquered by Christian armies, Granada is deeply steeped in an air of mystique and intrigue dating back to times when it was ruled by another culture, another creed.
To this day, Granada's eclectic past as one of the most important urban settlements during the Golden Age of the Caliphate of Cordoba (between the 8th and the 10th centuries) has transcended through time not only in its appearance, but also in the local culture. Granada is also home to a large university, and students from different parts of Spain and around the world lend a vivid and jovial air to this multicultural learning environment.
The Highest Highs and the Bluest Blues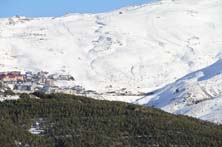 While the sun shines on Granada for close to 3,000 hours every year, its proximity to the Sierra Nevada means that a skiing excursion is often possible as late in the year as April. Few things can be as sublime as enjoying a sweet downward slide on the fresh snow under the brilliant sun.
This, of course, is not where the magic of Granada's location ends. Here you can enjoy skiing or snowboarding in the morning and spend the afternoon at the beach. The Mediterranean coastline, with coves and beaches large and small, is only an hour away from Granada.
Sumptuous Culture
Known worldwide for the extraordinary palaces of La Alhambra and Generalife, Granada is an endlessly fascinating city teeming with history and exquisite beauty. Thanks to its fascinating fusion of European and Moorish influences, Granada is one of the truly unique cities of the world.
Want to learn more about Granada? Check out our handy Granada travel guide to discover all the city has to offer: what to do, things to see, when to go, interesting facts, and much more!