The Granada Experience
Enjoy a spot of tea
Granada's Islamic roots are evident in everything from its sumptuous palaces to its winding streets, its marketplaces and, yes, its tea! The city is filled with atmospheric "teterías", or tea rooms, where you can sit back in the pillows and enjoy a wide range of typical Arabic infusions.
Load up on tapas!
While the art of "el tapeo" is a national passion, Granada is one of the few cities where you can get free tapas with any beverage you order at bars. Not only that, but the portions are generous. So grab a beer, a glass of wine or even a soda and enjoy anything from olives to cheese, fried eggplant, toast with toppings and much more!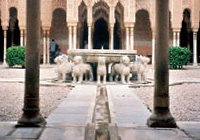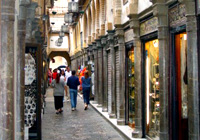 Sleep in a cave
Sacromonte, traditionally the neighborhood of Granada's gypsy population, provides visitors the rather interesting opportunity of staying in cave. Yes, a cave. Dug into the mountain centuries ago, many of these caves are still inhabited or are used as flamenco venues, bars and - you got it - hotels. Don't go in expecting dirt floors and a rudimentary lifestyle; caves have been upgraded and boast all the amenities of regular homes.
Join in "la marcha"
While relatively small in size and undeniably old in age, Granada has a vibrant student population that pumps life into the city's ancient streets. The surprisingly active after-dark scene has an eclectic collection of nocturnal haunts, ranging from tea rooms to rock bars, all-night dance clubs, cocktail lounges and everything in between.
Meet Fernando & Isabel
Head to the Cathedral's "Capilla Real" (Royal Chapel), where you'll find the elaborately sculpted tombs and effigies of famed Spanish monarchs Fernando and Isabel, who "liberated" the ctiy from Islamic rule, financed Columbus' voyages to the Americas and much more.