Accommodations in Granada
If you are going to visit Granada at any time, whether as part of your Spanish language courses or just as a stop off on the way, then you should spend an absolute minimum of two nights to allow yourself the time to do and see as much as possible. This is a lively city which has a lot to offer, and it is certainly not something which can be experienced in one day, even in a partial sense. If you are planning an extended visit such as one of our courses, or even a full semester or year abroad in order to get more out of your trip, then we have some accommodation suggestions to make your trip as comfortable as possible that you can have us book for you in order to make the process far more simple.
If you opt to go for a host family, you will get to know the Spanish culture first hand and feel fully integrated, which is a really fantastic option. The host families are chosen very carefully and go through a vetting process to ensure that they are suited to giving you a home during your course, and they are all very welcoming and ready to accept you into their daily life as if you were one of the family yourself. They can make you feel very comfortable and give you a perfect environment in which to practice your language skills, as well as doing a bit of study outside of class.
If, on the other hand, you choose to share a flat with other students, then you will get to know people from all over the world. We will put you into the accommodation with other learners who are part of our other courses, so that you get to meet new people who are part of different cultures or learning different languages, so that when you go out and explore the city together you can all have a lot of fun and communicate with your shared Spanish skills, even if you are only just beginning to learn the language for the first time. The atmosphere can be great too, allowing you to really relax and have a good time for the duration of your stay as a student here.
Finally, if you select the hotel accommodation option, then you will be free to come and go as you please. Just as if you were on holiday, you will have your own room with all of the facilities of the hotel available to you, and you will be able to study in your own space after class as well as getting to rest without anyone else around. You can go out and do your own thing outside of the classroom, or you can team up with other students from your course in order to explore the city together and see what you can discover in the local area.
The following Enforex accommodations are available in Granada:
Accommodations in Granada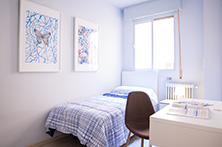 Private Apartment / Studio
Accommodation Prices