Alicante's attractions
Grab a towel and head to the beach
Sure, Alicante is a pretty significant city, but that has yet to diminish its delightful beach town vibe. While you're in town don't pass up the chance to enjoy Alicante's golden sand, beachside bars, boardwalks and tranquil waters. The most popular beach is the sprawling Playa de San Juan, located 7 kilometers up the coast and reachable by bus or tram. However, there are also beaches within the city limits - Postiguet Beach and Urbanova - if you're looking for a more convenient beach visit.
Eat
With fertile surroundings, historical ties to numerous cultures and a prime coastal location, Alicante enjoys a delicious Mediterranean diet based on fresh produce, fresh seafood, olive oil and rice. Rice dishes are extremely popular in Alicante and a definite "must try"; after all, the region is the birthplace of paella!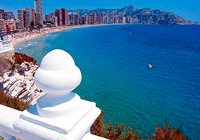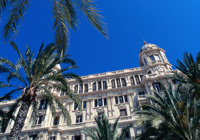 Explore history
Throw away any concepts you may have of archaeological museums being dull buildings filled with dusty pots, because MARQ - Alicante's award-winning archaeological museum - puts a modern, interactive spin on ancient history.
Check out the local nightlife
From the atmospheric streets of El Barrio to the modern port, nocturnal Alicante is every bit as energetic as daytime Alicante is laid-back.
Board a boat bound for Tabarca
A short boatride across crystal clear waters will take you to the beautiful rocky island of Tabarca, officially considered part of Alicante. The island was Spain's very first Marine Reserve, where 1400 hectares of marine life are protected and preserved. Enjoy the sea breeze and the warm sun with a stroll along the island's stunning rocky beaches and then head into the island's village for some fresh and delicious seafood.