Alicante Attractions & Highlights
When you choose to learn Spanish in Alicante there are a wide range of places which you can visit, things to take part in, and culture to fully immerse yourself into.
El Barrio
The old part of town, simply called "the neighborhood" in Spanish, holds beautiful historic churches and a unique 12th century cathedral. More than the sights, this area is famous for its thumping nightlife. Locals and tourist mix to bar-hop from one great spot to the next in a friendly, open environment.
Weather
Appropriately nicknamed the "city of the sun", Alicante has a climate that most cities can only dream of. Lots of sun, barely any rain, mild winters and warm summers... it doesn't get any better than this!
Las Hogueras de San Juan
Nearly 90 elaborate and colorful papier-mâché sculptures, which architects and artists take months to create, are erected throughout the city, admired by all and then set on fire in a spectacle rivalling the Fallas of Valencia. But the pyrotechnics don't end there, as rockets are launched, bonfires line the beach and fireworks light up the night sky.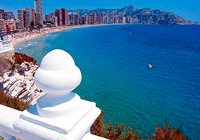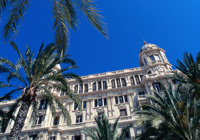 Nightlife
Outside of El Barrio, you can party 'til dawn around el Puerto (the Port) and Isla Marina, home to Alicante's Regata Club.
Explanada de España & Playa Postiguet
Alicantino writer Juan Gil-Albert wrote: "Estar en Alicante es estar en la Explanada" (To be in Alicante is to be on the Explanda). A grand total of 400 palm trees line this maritime boardwalk, providing shade for numerous outdoor cafes. We recommend the music pavilion for free outdoor concerts, and the colorful hippy market selling every class of odds and ends. Adjacent Postiguet Beach is surprisingly clean considering its position right in the city center. Best of all, you'll study Spanish with Enforex right in this area!
Castillo de Santa Bárbara
This hilltop castle, Alicante's main sightseeing stop, is the best place to soak up the unbeatable vistas of the city and coast below.