Alicante Accommodations
If you choose to come and study Spanish at our language school in Alicante, you will have the choice for accommodation between staying with a host family or going into a shared flat or apartment. Each option has its pros and cons for each individual person, so it is up to you to decide which one suits you best, and of course you can explore some information before you have to choose in order to have a clearer picture of what each of them is going to mean for you. We have some small summaries here which may help you to decide a little easier.
If you go for the option of staying with a host family for the duration of your language course then you will stay in a typically Spanish house, and the family who lives there (that has been carefully selected by Enforex to ensure that they are friendly and welcoming as well as meeting our requirements) will accept you graciously into their home as another member of the household. Living with a host family is an excellent opportunity to practice what you have learnt in class in an uncritical, everyday environment, as well as getting to learn some first hand experience of real Spanish culture and the way that daily life is lived. You can also expect to eat home cooked meals which explore traditional Spanish cuisine, and you will be able to find out about the best places to visit around Alicante itself as the family will be able to give you tips and advice – or even guide you around in some cases.
If you choose to live in a shared flat instead then you will find that this is a great chance to share your knowledge with your roommates and practice your skills after you come back from classes every day. Teaching is a great way of reinforcing what you already know and plus you could be helping your new friends to expand their knowledge, so everyone is a winner! If they are students of Spanish as well, then it will be all the better as you can actually go over the lessons together and make sure that you really get everything that you have learned firmly in your head. If you like having your own space or you prefer the idea of independent living then you can choose a private apartment too, and this will allow you to spend some time alone if you prefer that as well as having your own area to retreat to if you are tired and want to rest. There are different options to suit all students; younger learners will often prefer to stay with other students or a host family in order to be able to socialise and have a lot of fun, while more mature students often appreciate the idea of having their own space much more and will therefore go for the private space.
The following accommodations are available in Alicante:
Accommodations in Alicante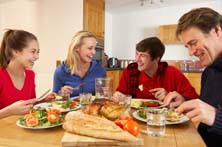 Accommodation Prices