LEARN IN ALICANTE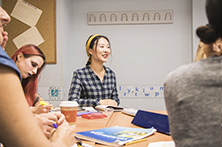 With Enforex you will study Spanish with highly qualified teachers, just steps from the Mediterranean Sea. We offer many options to suit every type of student from classes in small groups to private lessons, for teens to adults of any age. Study for an official Spanish certification, experience local fiestas, plan your entire gap year with us or gain valuable professional experience by interning at a Spanish company. Whatever you are looking for, we got it!
Intensive Spanish courses are our most popular course options. Schedules and content are designed to be flexible, personalized and meet the needs of most students. They start every Monday and our school in Alicante offers Intensive Spanish as well as Intensive Spanish Plus. You can choose to have twenty Spanish lessons per week or twenty Spanish lessons plus five conversation classes per week. You can also add specialized Spanish classes to either option.
Alicante offers various specialized courses designed to meet the needs of every type of student. Among our most popular courses in Alicante are our customizable group programs, Spanish fiestas and internships at a Spanish company.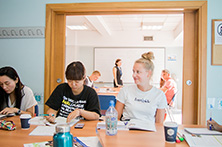 At Enforex Alicante you can prepare for the official DELE exam to earn the most international and well-known certificate, or the official SIELE exam, which is newer international exam to certify your proficiency level. Either exam will provide you with many new and exciting professional and academic opportunities.
On the links below you will find all the information you might need about any of these Spanish courses in Alicante, including their duration, prices starting dates and more. So start browsing, and find the best course for your needs tight here: