Learn Spanish in small groups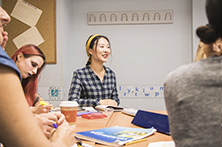 From the moment you set foot in Spain you will be immersed in the language. Every day is an opportunity to learn. Picturesque Alicante is the perfect setting to experience the Spanish language. Our qualified teachers are passionate about making sure you reach your full potential. Check out our many courses to find the one that suits you!
Our Spanish Courses in Alicante are taught by highly qualified teachers, just steps from the Mediterranean Sea. We offer many options to suit every type of student: from classes in small groups to private lessons and courses for seniors.
Study for an official Spanish certification, plan your entire Gap Year with us or travel with your group for an unbelievably lively experience. Whatever you are looking for, we got it!
Intensive Spanish courses are our most popular course option. Schedules and content are designed to be flexible, personalized and to meet the needs of most students. They start every Monday and our school offers four different options: 10 or 20 Spanish classes per week or 25 or 30 lessons, which include culture and conversation workshops. You can also add specialized Spanish classes to either option.
Alicante offers various specialized courses designed to meet the needs of every type of student. Among our most popular Spanish courses in Alicante are our customizable group programs, our different types of private lessons and the Gap Year Program. Want to study in your age group? Our 50+ course has been designed to offer you a complete cultural immersion at a pace that is right for you.
At Enforex Alicante you can prepare for the official DELE exam with our 20 and 30 lessons courses to earn the most international and well-known Spanish certificate. If you prefer, prepare to certify your proficiency level with the SIELE preparation course. Both exams will provide you with many new and exciting professional and academic opportunities and can be taken right at our school!
On the links below you will find all the information you might need about any of these Spanish courses in Alicante. Start browsing, and find the best course for your needs right here:
General Intensive Spanish Language Courses
Official Exam Preparation Courses
Specialized Spanish Courses