Study Spanish in Alicante, Spain
If you've always imagined Spain as a warm, Mediterranean paradise, you should come and learn Spanish in Alicante. With some of the most beautiful beaches in Europe, Alicante is close to the perfect place for anyone looking to have a calm, relaxing time near the beach and with all the amenities and services that come with an urban development. With roughly 300,000 inhabitants, Alicante is large enough to offer serious comfort, and yet sufficiently small to still feature the charming nonchalance of a coastal town.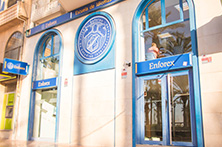 Located right on the mesmerizing shores of Spain's Costa Blanca, Alicante is known not only for its rolling of Mediterranean waves, kissing the shoreline, but also the staggering scale of its steep Mount Benacantil. Mount Benacantil emerges dramatically from the otherwise plain landscape, rising to well over 500 feet. Thus, serving as foundation for the millenary fortification that since times immemorial overlooks, somewhat threateningly, the perimeter of the settlement.
These days, however, when peace is almost taken for granted and war is no longer waged with invading armies of men disembarking en masse, Mount Benacantil and its castle of Santa Barbara offer not so much the solace of an impenetrable fortress but a sublime backdrop to a picturesque setting. Not to mention that as it breezes from the mountaintop, Alicante is left pleasantly moderate in climate as thermometers register mild temperatures all around the year.
Carthaginian Origins
Enticing for its beauty and for the genuine light-heartedness of its people, Alicante has far more to offer students and holiday-makers alike than just a pretty face. It has, for instance, a lot of history. And when we say a lot, we mean a lot: Dating back as far as the 10th century B.C., when Phoenician seafarers established a colony in the vicinity of Mount Benacantil, long before it had its name. Reportedly, the area was already settled by tribes, possibly arrived from Central Europe two to four millennia earlier.
Be that as it may, the Phoenicians were kicked out of the region by the Carthaginians who then went onto fortify the city. In their zest to become the trading masters of the Mediterranean Sea, Carthaginians occupied the majority of Phoenician posts, including modern day Alicante, among other major coastal cities in Spain. The story goes that walls and other fortifications in the Akra Leuka were greatly expanded by Hamilcar Barca, the great general, whose son would later embark on the most memorable and ambitious journeys ever to take place in Europe, when he crossed the Alps with 200 elephants, en route to Rome.
That would be in the greater context of the Punic Wars, when Carthaginians and Romans fought for supremacy for over a century, ultimately signifying the end of Carthage, which ultimately fell to the incendiary rage of Scipio Aemilianus, who burnt it down to ashes. Meanwhile, Akra Leuca had changed hands yet again, and, like the rest of the western world, it was under the rule of Rome. Thus, it became "Lucentum," the city of light, a name that it would keep for almost a full millennium, until the arrival of Muslim invaders from northern Africa, towards the beginning of the VIII century.
One of Many Kinds of Spain
Stereotypes being as they are, those who choose to learn Spanish in Spain will know that the general perception of Spain is often linked to the beach, the sun and a very long siesta. It is true that this is only one of the many different versions of Spain around: vast and diverse as the country is, you can find anything from forests to deserts, from the wild landscape of the Pyrenees to the rolling hills of Galicia. Nevertheless, in Alicante the stereotype of the good Spanish life is not only fulfilled, but even surpassed. If what you are looking for is a place where you can bask in the sun and learn Spanish, Alicante is a place where you will be able to do just that.
Want to learn more about Alicante? Check out our handy Alicante travel guide to discover all that Spain's seaside "city of light" has to offer: things to do, what to see, when to go, interesting little facts and tid-bits and much more!