The Salamanca Experience
Spot the frog
Hidden within the sculpted tapestry covering the façade of the historic university is one of Salamanca's most elusive treasures: the frog. Legend has it that if you can find it (that is, without asking someone to point it out to you), you are guaranteed good luck and wedded bliss.
Drink up & boogie down
While Salamanca gets its fair share of visitors seeking a city teeming with history and beautiful architecture, the city is widely known for its youthful vibe and crazy nocturnal scene. Join in the fun with the throngs of university students, both local and from abroad, who fill the ancient city's eclectic collection of bars and clubs.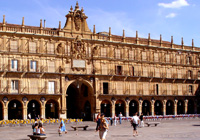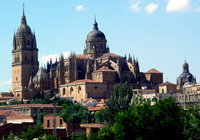 Relax in the "living room"
Center of all Salmantino activity, the Plaza Mayor - known as Salamanca's "living room" - continues to bustle just as it did in the 18th century. Widely considered Spain's most beautiful square, its intricate baroque adornment glimmers on yellow sandstone by day. By night, the plaza lights up to welcome visitors, local students and veteran Salmantinos alike who enjoy the fresh air and lively ambience.
Bar-hop for pinchos
Tapas - or "pinchos", as they're called in Castilla-León - are all about eating, drinking and being merry. Whether you plant yourself at one bar or migrating around town testing each locale's tapas and atmosphere, it's easy to see why an evening spent bar-hopping for scrumptious pinchos is a great way to fill both an evening and your belly! Pinchos joints are located all over the city, but for jam-packed conglomerations of them try in and around the Plaza Mayor or the Calle Van Dyck.