Salamanca Cultural Activities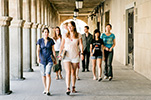 Just because Salamanca has been a student city for centuries does not mean that it is all work and no play. Visit Salamanca and see for yourself how the city really comes alive, as the youthful population here ensure that there is no need to worry about being able to find a vibrant nightlife scene or something exciting to do every day. In fact, the presence of so many students here is what tends to ensure that there is always something going on, as while they may study hard they also like to let their hair down and party hard as well. Our school has prepared a full program of activities for you so that you can that get to know the city and experience all it has to offer, and these will all fit ideally with your course in order to ensure that you are getting the right mixture of entertainment and learning during your stay. The best part is that you will not even need to organise anything yourself, but just put your name down and then arrive at the appointed time.
Discover this fascinating city full of legends and stories, enjoy some of Spain's most famous sports and taste the local cuisine while you are here! These are all just some of the great activities which you can take part in while you stay in Salamanca, and that is not where it ends: the region around the city itself also holds many more interesting attractions which are just waiting to be discovered and explored. You can also sign up for a wide range of outings designed to introduce you to the most emblematic places in the historic Castile and Leon region, as part of the day or weekend trips which we organise to ensure that even when you are not in the classroom you are still learning and discovering as much as you possibly can.
The most frequent afternoon and evening activities at our Spanish school in Salamanca tend to be as follows:
City tour which takes in all of the principle sights of Salamanca (Cathedral, Plaza Mayor, Casa de las Conchas, the University...)
Tapas crawl which takes you to some of the best tapas bars in the city and allows you to sample each one, just as the native Spaniards do
Spanish movie night in which you can watch some of the greats of Spanish cinema
Soccer and basketball games so that you can keep fit and have some fun while you are here
Weekend Excursions from Salamanca
You can also sign up for weekend trips to the region's most interesting historic cities, such as:
Zamora and Valladolid
Ciudad Rodrigo