Accommodations in Salamanca
Salamanca is the quintessential university town, and has been so for more than two thousand years since the university was first built and began to attract scholars thanks to its world class reputation. With the fifth oldest university in the world right on their doorstep, it is no wonder that the locals here are so used to going about day to day life with the city full of students, and indeed it is also clear how the city has managed to maintain a youthful edge with great nightlife even though it is so steeped in tradition and history. At Enforex we can offer you the very best accommodation tailored for your visit, so that you are comfortable for the duration of your lessons and more able to focus on what you need to learn before it is time to leave.
In Salamanca there are four different types of accommodation for our students to choose from. Living with a host family is a great choice and will give you a great insight into authentic Spanish culture, something which you would not be able to get in quite such a strong way through any other option. You can eat traditional Spanish cuisine cooked by your host family and join them for meals, as well as spending time with one another out in the city if you want them to show you around, which will help you to settle in very quickly and will also help you out with costs so that you do not have to pay for all of your meals at restaurants. They will know all of the best places to go and will help you to practice your language skills in an effective way, as they will know all of the best ways to do so having been around students in the same capacity before you.
We also offer student residence accommodation with other students from the school, a shared flat if you would prefer a greater degree of independence, or a private apartment if you are looking for a touch more privacy and comfort. These options are interesting as there are subtle differences between them, and therefore there are also subtle differences in the types of students who would benefit from them. Student halls are often preferred by our younger students as it means that you get the chance to mingle with others of your age and it will give you someone to go out on the town with, as well as being able to practice your language in a learning based environment where everyone is interested in the Spanish language. With the shared flat you get the chance to branch out on your own a little more and will still be able to meet others who will help you to socialise and practice your Spanish, and with the private apartment you will have your own space to come back to after your lessons have finished. This is perfect for some quiet study time.
Accommodations in Salamanca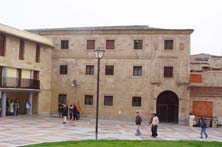 Accommodation Prices