Salamanca City Highlights
Not only are our Spanish courses in Salamanca second to none, the city also offers a plethora of amazing attractions to make your stay absolutely unforgettable.
La Plaza Mayor
Center of all Salmantino activity, the Plaza Mayor continues to bustle as it did in the 18th century. Widely considered Spain's most beautiful square, its intricate baroque adornment glimmers on yellow sandstone by day. By night, the plaza lights up to welcome visitors, local students and veteran Salmantinos alike who enjoy the fresh air and lively ambience.
Nightlife
Madrid is Spain's nightlife mammoth, but Salamanca packs the same punch with small town prices! From big discotecas to intimate jazz haunts, students pile into all kinds of locales every night of the week. If you're into all-night partying at cheap prices - and who isn't? - Salamanca is a nocturnal playground that won't let you down.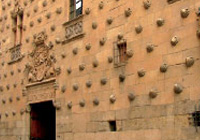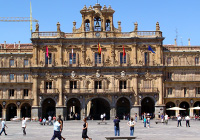 Universidad de Salamanca
Founded way back in 1218, Salamanca boasts Europe's 4th oldest university, present all around in elegant and yellowstone buildings. Breath in more than 800 years of intellectual life as you wander the streets and halls of Spain's great thinkers like Luis de Góngora, Miguel de Unamuno and Pedro Calderón de la Barca. Reputation still intact, Spanish students flock here from all over the country, mixing with international coeds to make up more than 30% of the city's total population.
Casa de las Conchas
The aptly named Casa de las Conchas (House of Shells) is without a doubt one of Salamanca's most emblematic and recognizable buildings. The exterior of this 16th century former mansion, now the city's public library, is covered in rows upon rows of scallop shells carved out of Salamanca's characteristic golden sandstone. Located near the university and cathedral, it's in a central location and, thanks to its distinctive motiff, pretty easy to spot!
Cathedrals- yes, there are two!
One of Salamanca's top attractions is the cathedral complex... yes, complex. While many cities tore down their original cathedrals to make way for new ones, both of Salamanca's cathedrals - the old and the new - are preserved and intact. The Catedral Nueva (New Cathedral) was built over 200 years starting in 1512 and, thanks to those two centuries of construction, is a prime example of the evolution of Spanish architecture. The Catedral Vieja (Old Cathedral) is attached to its newer counterpart and is a stellar example of early Christian Romanesque architecture and contains Europe's oldest organ.
Look for the rather out-of-place astronaut and the ice cream cone in the otherwise Renaissance and Baroque adornment around massive doors of the Catedral Nueva; sculptors brought in to restore the doorways were able to add a personal touch as a trace of his work and times.