The Pamplona Experience
Bar hop for pintxos in La Navarrería
The best way to try out yummy Basque cuisine is with a good old-fashioned "txikiteo", Basque for going out for tapas. Tapas, or "pintxos" in Basque, in Pamplona range from traditional to innovative... A perfect reflection of Basque cuisine. For the best "txikiteo" in town, bar-hop your way around La Navarrería, the oldest part of Pamplona.
Hit the town
While Pamplona's streets and buildings date back centuries, this city is anything but old. An active university population keeps things fun and fresh... Which goes for the city's nightlife too! From laid-back pubs with live music to classy cocktail bars and all-night dance clubs, Pamplona's nocturnal scene doesn't disappoint.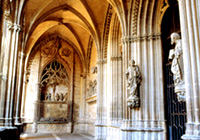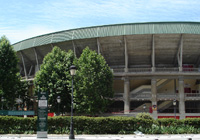 Run with the bulls... Or watch from a safe location
If a) you're sober, b) you're feeling daring and c) being chased down narrow streets by a pack of horned fighting bulls sounds to you like a good time, then participating in the Running fo the Bulls might be just the thing for you. However, if you, like many, prefer to revel in the festivities without the very possible risk of being gored or trampled, then pick a good vantage point along the route and watch the madness go by!
Channel your inner Hemingway
It's pretty well-known that Ernest Hemingway was Pamplona's most famous adopted son. After all, he visited the city often, locals accepted him as one of their own, and his first novel, The Sun Also Rises, takes place in Pamplona during the Running of the Bulls. Literature buffs can hit the Hemingway trail, stopping in the bars, restaurants and hotels that he loved and frequented. He even has a monument dedicated to him, aptly situated in front of Pamplona's famed bullring.
Explore the great outdoors
One of the best parts of Pamplona is its location, as the community of Navarra is truly one of the most breath-taking parts of Spain. Known for its verdant countryside, deep valleys, lush pine forests and - of course- the spectacular, snow-capped peaks of the Pyrenees mountains, Navarra is a great place to breathe in that fresh mountain air and go hiking, biking or any number of other outdoor activities.
Learn Spanish in Pamplona
Spanish School in Pamplona
Spanish Courses in Pamplona
Pamplona Accommodations
Pamplona Excursions & Activities
Pamplona Photo Gallery