Pamplona Attractions & Highlights
Those enrolling on one of our Spanish courses may be interested to know they're not all about sitting head-down with their nose in a book. Culture and entertainment are also crucial for a truly effective language learning experience.
Running of the Bulls
Bull culture is alive and well in Pamplona, and nothing proves that more than the annual Running of the Bulls. The once-local festival was launched into the international spotlight with the publication of Ernest Hemingway's first novel, The Sun Also Rises. Today it's more famous than ever, with thousands of people from around the world descending upon the city each year to eat, drink, party and catch a glimpse of the crazed dashes down Pamplona's tiny streets.
La Navarrería
The very oldest part of town, La Navarrería, is located where the Roman town of Pompaelo once stood. Thousands of years later, it remains the heart and soul of modern day Pamplona, where you will find parks, lovely squares, tons of pintxos (Basque for "tapas") locales, the city's marvelous Gothic cathedral and much more.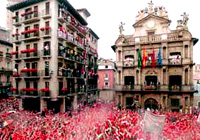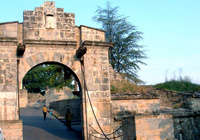 Parks
Pamplona, declared one of Europe's "greenest" cities, has a vast amount of parks and gardens dispersed throughout the city. It's yet another factor contributing to the high standard of life in this small, comfortable city.
Architecture
Pamplona's prime location just over the Pyrenees mountain range from France and at the beginning of the historic Camino de Santiago pilgrimage ensured that new architectural trends arrived first in Pamplona, sometimes even centuries before they made it to the rest of Spain. The majority of the old quarter is impeccably preserved and dates back to the Middle Ages. Today it remains much as it was during the 12th through 15th centuries.
La Ciudadela
La Ciudadela, the city's massive star-shaped citadel, was built in the 16th century back in the day when Pamplona was a major Spanish military outpost near the French border. Once its original military function was deemed obsolete, the whole complex was turned into what has become the city's favorite leisure and culture area. Amongst the citadel's walls and buildings, you can enjoy beautiful parks, exhibition spaces, open-air contemporary sculptures, gardens, paths for walking or jogging and benches to just sit back and take it all in.
Learn Spanish in Pamplona
Spanish School in Pamplona
Spanish Courses in Pamplona
Pamplona Accommodations
Pamplona Excursions & Activities
Pamplona Photo Gallery