Sevilla Attractions & Highlights
Barrio Santa Cruz
It doesn't get more romantic than the Barrio Santa Cruz: white-washed facades, iron balconies draped with flowers, the most narrow, winding streets imaginable and abundant charming patios characterize Sevilla's historic Jewish quarter. You can soak up rays on any number of typical terrace cafes.
Flamenco & Folklore
Sevilla, the heart of folkoric Spain, is the best place to experience a bullfight or flamenco show. Its one of the few places where you'll actually find women decked out in polka-dot dresses on special occassions, or spontaneous flamence wailing on the street. If you're interested in acquiring a profound understanding of Andalusian culture, check out our learn Spanish + flamenco course in Seville!
Casa de Pilatos
Tucked into the winding streets of Santa Cruz, the stunning Casa de Pilatos - widely regarded as the "prototype" of Andalucían palaces - is often overlooked by visitors who flock instead to the Alcazar for their palace fix. Dating back to the late 15th and early 16th centuries, the palace boasts a mix of Italian Renaissance and Spanish Mudéjar influences, incredible tile work, majestic courtyards tranquil gardens and much more.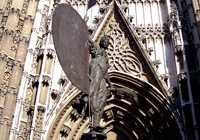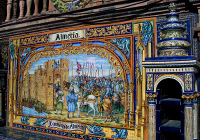 Torre de Oro
This 13th-century tower, nestled into the eastern bank of the Guadalquivir River, was once a key part of the massive wall built around Sevilla to protect the city, its people and its assets. Today, along with being the city's surprisingly interesting Naval Museum, is one of the most recognizable and beloved symbols of the city.
The Cathedral & Alcazar
Sevilla's 2 central monuments, the Cathedral and Alcazar, embody the city's fascinating cross-cultural history. For more than 500 years, Sevilla was the capital of Muslim Spain, or "Al-Andalus." Then, after the Catholic reconquista in 1258, the city became a favorite royal stomping grounds and, later, the recepticle of New World riches for a vast Catholic Empire.
Both the Cathedral and Alcazar represent these deeply seeded cross-cultural influences. The Cathedral was built on top of an Almohad Mosque, however the mosque's accompanying minaret, the "Giralda," remains. At once you find one of the world's oldest minarets and largest churches side by side. The secular Alcazar, first constructed as a Moorish palace in the 7th century, developed into a revamped royal residence in the 15th century. This building impresses as a prime example of mudéjar architecture, a style crafted by Muslims artists working in Christian lands.
For more information be sure to check out our free brochure where you can learn all about the various cities we offer Spanish courses.