The Sevilla Experience
Get the birds-eye view
Easily the most beloved symbol of Sevilla, the soaring Giralda - the cathedral's historic bell tower - provides great views for those willing to hike up the seemingly endless set of ramps leading to the top. The unbeatable views over the entire city accommpanied by the occasional chime of bells are definitely worth the climb.
Pedal the Guadalquivir
Head down to the shores of the Guadalquivir River and hop aboard your very own - albeit, rented - pedal boat. Bob around in the current enjoying the peace and sunshine or pedal your way up and down the river for great views of the Torre de Oro and other emblematic Sevilla sights.
Go out "de tapeo"
The only thing that Sevilla has more of than churches is tapas bars. The rumored founding city of tapas, it's only right that the city is brimming with seedy bars, terrace cafés and restaurants all serving up this tasty bites of Spanish food. Don't commit to a full, sit-down meal; instead, hop from bar to bar to sample the wide range of local and national specialties. Keep in mind: the more crowded the bar, the better the tapas!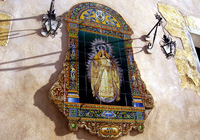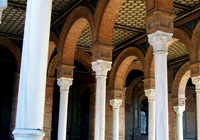 Get lost
The Santa Cruz neighborhood is a labyrinth of tiny streets and plazas, which leaves many map-toting visitors confused and frustrated. Throw the map away and wander around, taking in the tiny cobblestone streets, and the leafy courtyards visible from the street. After all, in Santa Cruz you don't look for things... Half the fun is stumbling upon them completely by chance!
Climb aboard a horse-drawn carriage
Sure, it's quite possibly the most touristy thing to do in Seville. However, if you negotiate a good price with a driver, you are in for a great tour of Sevilla. Your clip-clopping tour will last roughly an hour and will take you through historic Sevilla. Plus, it's a great photo op!