Sevilla Cultural Activities
The most common weekly activities at our Spanish school in Sevilla, held during the afternoon / evening, are: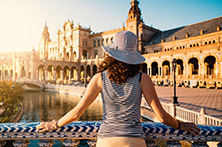 Welcome dinner in a typical restaurant with a professor
Guided city tour through the most important and interesting parts of town
Visits to Sevilla's museums (Archaeological, Arts & Customs...)
Spanish film nights
Visit to Maestranza bullring & bullfighting museum
Museum visits
Weekend Excursions from Sevilla
Sevilla's prime location allows us to offer trips to Portugal as well as local visits within the city, nearby beaches and small town treasures. These trips are scheduled for weekends. Below you can see a few of our most common weekend trips:
Córdoba
Carmona
Itálica
Isla de Tavira
Cádiz
Granada
For more information about the opportunities on offer when you embark on a Spanish course in Sevilla, please take a look at the monthly activity calendar in our special Students Corner section.