Accommodations in Seville
Seville is a remarkable and very enjoyable city to live in, something that you can discover for yourself as soon as you arrive here for the start of your Spanish course. The accommodations that we provide will ensure that you are placed at the heart of its unique atmosphere for the duration of your stay, allowing you to fully immerse yourself in the culture of the local people. All of our accommodations are so well located that you will not have to worry about missing out on or arriving late to any events, as access is easy to everything that you will want to access in Seville – whether through public transport or simply by walking a short distance from your temporary home.
Enforex offers different types of accommodation in Seville for you to choose from, so that you are sure to find something that suits you very well. We offer homestay accommodation giving you the chance to experience life in a typical Spanish household, as you will stay with a host family who have been carefully chosen to give you a great atmosphere and to help you to practice your Spanish as much as possible. They will make you feel at home very soon after your arrival, and they will also give you a great introduction to daily life in Spain as well as the traditional and delicious cuisine with the meals that they provide to you.
Alternatively, if you do not think that staying with a host family would suit you, we offer student residence accommodation with other students from the school. This will give you the chance to mingle with other learners and to take part in an environment which is geared towards studying, and is certainly perfect for younger learners and those who are still perhaps studying full time or have only recently finished doing so. We can also offer a fully equipped shared apartment if you are looking for a touch more independence, where you can cook your own meals and yet still have some other people to spend time with to go out and about around the city; or a private studio apartment for complete comfort, which will allow you to have your own space to come back to whenever you like to so that you can do your own thing too. Booking is easy as we will take care of all of the details once you have indicated which of these options you prefer, so you do not have to do any of the hard work yourself – and we can get you different options too so that you can suit your budget, from the choice of a shared or private room right through to deciding how many of your meals you would like to be provided during your stay. You can set it all up very easily when you are booking your place on one of our Spanish courses.
Accommodations in Seville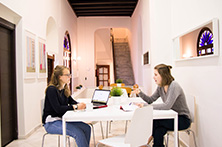 The Dorm
Private Apartment
Accommodation Prices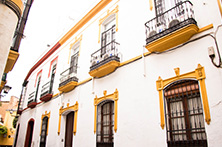 The Dorm Prices
Private Apartment Prices