Marbella Attractions & Highlights
Those who want to learn Spanish in Marbella will be pleased to learn that this historic city features some of the best beaches and shopping destinations in Spain. Check our extensive guide below!
Old Town & Plaza de los Naranjos
Marbella's historic center, or "casco antiguo," is characterized by white-washed streets, historic churches and squares, and a growing number of boutiques and shops. Its core, the "Plaza de los Naranjos" (Orange Tree Square, circa 1485) contains 16th century structres like the town hall and a pretty chapel. Partially enclosed by an ancient Arab wall, this area is the perfect place to breath in Marbella's history while enjoying a refreshment at a terrace cafe.
Weather
Wedged between mountains and the sea, Marbella enjoys a pleasant micro-climate characterized by plenty of sun, little rain, mild winters and warm summers. It's no wonder the city attracts visitors from both Spain and abroad!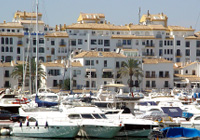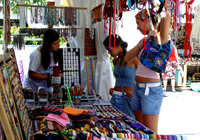 Shopping
Shopaholics beware! Known for its luxury-loving attitude about life, it's no surprise that swanky designer brands flank Marbella's streets. If a 500 euro purse just doesn't fit your budget, fret not; the city also has plenty of cute shops and eclectic markets where you can buy all sorts of goodies - fresh produce, clothes, spices, etc. - for less.
Beaches
Golden sand, blue sea, warm sun... life doesn't get much better than this. Marbella's stretch of Mediterranean coastline spans some 26 km (16 miles), and the surrounding Sierra Blanca mountains block strong winds, making for some of the best beaches in Spain.
Sports & Leisure
Marbella is famous for its luxury gyms, numerous tennis clubs and world-class golf courses. So when you're not soaking up the sun on the beach, hit the links, work up a sweat at the gym or show off your tennis serve.