Learn Spanish in a Global Learning Environment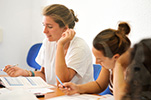 Explore our Spanish courses in Marbella and choose the format that best fits your learning style. We offer more classes than ever – from small group courses or private one-to-one lessons to a gap year or official exam prep courses and beyond! We have curated programs to facilitate fun ways to learn Spanish both inside and outside the classroom. Join us in Marbella for a Spanish learning experience you will never forget!
Our intensive courses are highly interactive and focused on real experience. Choose anywhere from 10 and 30 classes per week depending on your ideal balance of classroom learning, exploring Marbella, and lounging on the beach. Our Intensive 25 and Super Intensive 30 courses include five additional culture and conversation workshops that are a great way to getting you speaking in Spanish and learning about the topics you're most interested in. You can also add specialized courses, excursions and activities to your course!
Living abroad is an incredible opportunity, which is why our Spanish courses are designed to meet your needs and help you make the most of your time. Take private classes tailored to you, study abroad with your familly, or experience a life-changing gap year!
If you want to prepare for an official DELE or SIELE exams, sign up for one of our prep courses! Our expert teachers will help you lock in your best score in the least amount of time.
Kids of all ages love Marbella! We have designed three different summer camps in Marbella that meet the needs and spark the interest of kids and teens aged 5 to 18. They will enjoy learning a new language, meeting new friends from Spain and all over the world, and having the best summer of lives!
Intensive Spanish Courses
Specialized Spanish Courses
Spanish for Young People
Exam Preparation Courses
Learn more and register for a course with no commitment
20 types of Spanish programs for all ages, with accommodation & excellent services.
---