Accommodations in Marbella
Spending time in Marbella during your Spanish language course will give you the opportunity to truly discover Spain; from getting to know the friendly locals to discovering our own unique concept of luxury, which is something that can really be seen here in one of the most favoured areas of Spain. By choosing to study in Marbella you are opting for an unforgettable experience both in and out of the classroom, as well as a chance to really see what Spain has to offer for visitors who are learning how to speak the language of the natives.
We offer four different types of accommodation in Marbella, so you can find something that suits your preferences as well as your budget by setting them up in a way that will fit you the best. Remember that most of these options also have various ways in which you can change them such as having food provided to you or sharing a room with someone else, which means that there are many great ways in which you can customise your experience in order to be sure that it represents exactly the kind of experience that you are looking for. Living with a host family is a popular choice and gives you the opportunity to completely immerse yourself in the Spanish language, as you will be surrounded by it at all times and able to take part in conversations with the family at any time you like – and they will be sure to welcome and include you at any turn. It is also a great chance to get hands on experience of life in a typical household, so that you really see Spanish customs and traditions up close as well as the way that day to day lives are normally conducted in Spain – as well as the way that the language is used in real situations, which may be more dependent on slang and shorter ways of saying things than the phrases that you learn in the classroom.
We also offer student residence accommodation, which is a great way to interact and share your experience with your fellow students. You will be living with others who are studying on our courses, and so while they may be from a wide background of different cultures and languages you will all be able to communicate with one another in Spanish. This is a great way to make new friends, as well as really starting to understand the language better – and letting your hair down, as you can all go out together in the evenings if you prefer.
If you are looking for a bit more independence then we offer shared apartments, or for a touch more privacy then we would recommend a private apartment. These two options are both great because they allow you to have more of your own space, and especially for our more mature students this can be something that proves to be very important during their stay.
Accommodations in Marbella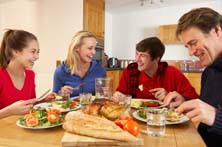 Accommodation Prices