Cádiz Attractions & Highlights
With sunshine, excitement, and happiness dripping from every metaphorical pore, you could do a lot worse than to learn Spanish in Cádiz this summer. From cathedrals to beachs, and carnivals galore, Cádiz has it all!
Carnaval
The parades! The costumes! The music! The parties! Cádiz's famous Carnaval is, hands down, one of the highlights of Spain's jam-packed cultural calendar.
History
Legend has it that Cádiz, the western world's oldest still-inhabited city, was founded by the one and only Hercules. However, more factual information points to its being founded and settled by Phoenicians around the year 1100 B.C. Since then, it has raked up over 3,000 years of history and has been home to many a civilization.
Cathedral
Construction on Cádiz's cathedral, located in the aptly-named Plaza de la Catedral and overlooking the ocean, began in the early 18th century but subsequently took over a century to finish. Built in the high Baroque style with Neoclassical touches, the surprisingly enormous cathedral is built entirely of stone and features its characteristic gold-tiled dome.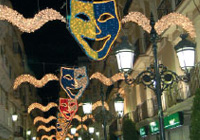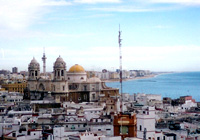 Plazas, promenades and other pedestrian-pleasers
Between the seaside promenade surrounding the city, intimate parks filled with trees and benches, old winding streets of cobblestone and a slew of beautiful plazas, Cádiz is a city meant to be explored on foot. Throw away the map and explore!
Beach
Almost completely surrounded by water, Cádiz is a great spot for beach-lovers. The city's most popular - and therefore crowded - beaches are Playa de la Caleta and Playa de la Victoria, but there are plenty of other sandy spots in and around the city.
Learn Spanish in Cádiz
Cádiz Excursions & Activities