The Cádiz Experience
Get the bird's-eye view!
The Torre Tavira was built in the 18th century and, in a city known for its imposing watchtowers, was designated the Cádiz's official watchtower. Along with providing spectacular views over the city and its bay, this tower is also home to the "cámara oscura", a type of camera that projects a live moving picture of the whole city into a weird dish-shaped screen. VERY cool.
Try the "pescadito frito"
With its coastal location, it's only natural that you try a bit of seafood while you're in Cádiz. The most typical thing to order is "pescadito frito" (small fried fish) and the best place to get it is at the Freidería Las Flores, located in Plaza Topete. You can also get these tasty treats to go.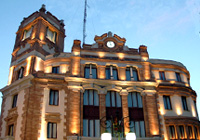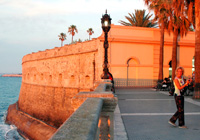 Dress up
If you plan on heading to Cádiz for its crazy Carnaval festivities, a costume is a MUST. Spaniards flock to Cádiz donning costumes that poke fun of anything from current events to politicians, celebrities and even institutions. Nowhere else can you see a group of male nuns drinking in the streets alongside "bird flu" chickens.
Beach it
Grab your towel, some suncreen and a book and head to any of Cádizs many beaches to soak up the rays, take a dip in the ocean or partake in fun watersports and activities.
Learn Spanish in Cádiz
Cádiz Excursions & Activities