Spanish Courses in Cadiz
In our Cadiz partner school we specialize in helping you learn as much Spanish as you can in the shortest time possible. Choose between an Intensive program of 20, 25, or 30 Spanish classes per week. Through multiple intensive Spanish lessons each day, our teachers will guide you through everything you need to improve your Spanish level or build a strong foundation for everything you will learn.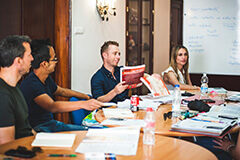 With an Intensive course you will have time to learn everything you need during your classes and dedicate the rest of the day to getting to know the city of Cadiz. It is a perfect opportunity to learn Spanish and get the most out of the warm and welcoming city.
In addition, you can also do an internship in a company to perfect the Spanish you learn in a working environment, or you enroll in our Gap Year program and enjoy a whole year in Cadiz.