Learn Spanish with students from around the world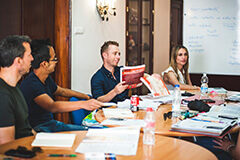 Our Spanish courses in Cadiz will help you learn as much as you can in the shortest time possible. In our partner school, you can choose among intensive programs, private lessons, and exam preparation courses.
The teachers will guide you through everything you need to improve your Spanish level or build a strong foundation for everything you will learn and experience.
Enforex Intensive programs offer 20, 25 or 30 Spanish lessons a week that will give you the time to learn everything you need and dedicate the rest of the day to getting to know the city of Cadiz. It is a perfect opportunity to learn Spanish and get the most out of the warm and welcoming city.
In addition to the previous Spanish Courses in Cadiz we offer private lessons to improve specific skills. Live a once-in-a-lifetime experience with a Gap Year that will help you gain an international dimension and acquire cultural awareness or travel the world with friends profiting from our customizable group program.
Certify your Spanish proficiency level and enroll in success! Prepare for the Diploma of Spanish as a Foreign Language with our DELE 20 and DELE 30 preparation courses or train to pass the SIELE exam with us.
Intensive Spanish Courses
Specialized Spanish Courses
Official Exam Preparation Courses
Learn more and register for a course with no commitment
20 types of Spanish programs for all ages, with accommodation & excellent services.
---