Introduction to Sucre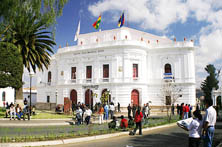 Sucre is a charming colonial city in southern Bolivia that has been impeccably preserved thanks to its status as a UNESCO World Heritage Site.
Sucre's many names – it was formerly known as "La Plata" ("Silver") and is still called the "white city of the Americas"– serve as reminders of 300 years of Spanish rule. During much of its colonial history, it was a preferred destination by Spanish royalty and wealthy families involved in Peru's lucrative silver trade. Its colonial-era structures include two universities, various churches, beautiful white-washed buildings and tree-lined plazas where students congregate to socialize and have a good time.
The legislative capital of the country, Sucre has always been an influential city. Throughout its history and right up through today it has been a focal point of arts, academia and progressive thought. With a population of about 250,000 and surrounded by traditional villages, mountains, prehistoric sites and much more, Sucre is a tranquil and fascinating place to study Spanish while learning about Andean and colonial culture.
Learn Spanish in Sucre
Sucre Accomodations
Bolivia Photo Gallery