Sucre Attractions & Highlights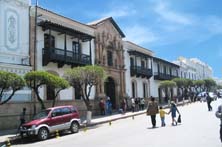 La Casa de la LibertadThe House of Freedom
Constructed in 1621, it was in this building that Simon Bolivar founded the republic. The Casa de la Libertad also houses the Bolivian Declaration of Independence.
La Biblioteca NacionalThe National Library
Housing documents that date back as far as the 15th century, the Biblioteca Nacional he first and most important historical, documentation and bibliographical center of Bolivia.
La Catedral MetropolitanaThe Metropolitan Cathedral
Constructed between 1559 and 1712, Sucre's cathedral is one of Bolivia's architectural gems. Principally Renaissance in style, it also incorporates Baroque and local styles.
La Recoleta
Built in the early 16th century by Franciscan monks, this convent now houses a museum of paintings from the 16th through 20th centuries.
Capilla de la Virgen de GuadalupeChapel of Our Lady of Guadalupe
Constructed in the early 17th century, it houses the Sucre's revered Virgin of Guadalupe statue, dripping in gold, silver and jewels.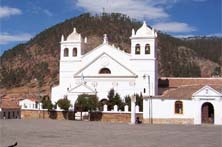 San Francisco Church & other Colonial Churches
This Renaissance-style convent was built in 1540 and boasts a beautifully decorated interior. Other wonderful examples of colonial architecture include the Church and Convent of Santa Teresa (1665), Church of Santa Clara (1639), Church of Santo Domingo (1580), Church of San Sebastián (1539), Church of San Agustín (1564-1570), Church of Santa Mónica (1612) and many more.
Cal Orck'o
Located approximately 20 minutes from Sucre is one of Bolivia's most interesting points of interest: dinosaur tracks! The fossilized footprints are believed to date back some 68 million years and are definitely worth checking out!