Spanish Courses in Sucre, Bolivia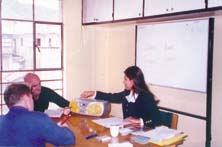 Founded in 1538 as a Spanish colonial city, Sucre has grown in international standards since then. The history of the city can be viewed in the many churches, convents, and ancient historical homes from the time of its founding, all of which are close by the language school. You can take your Spanish course in Sucre right in the heart of the city, with everything that you will want to explore close by and at hand so that you do not need to worry about travelling great distances during your stay.
The following Spanish courses are available in Sucre. Click on the Spanish course you're interested in to see more details.
Spanish Courses in Sucre, Bolivia
The school facilities include an entertainment room and free internet access, so even if you feel like staying in you will certainly find plenty of activities to fill your spare time around your Spanish lessons. There are colonial balconies throughout the school that will make you feel as though you are starring in an old Western movie, and you can also go up to the roof deck to take a look out over the city or watch the sun set over the other buildings of the area.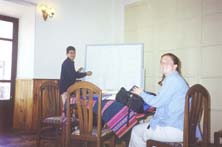 During the day you can choose from a range of different courses, from amongst our most popular packages. If you want to enjoy the perfect mix of study time and free time, just sign up for our intensive course, that has been proven to have great results both in terms of language education and relaxation. For those who are more concerned with learning than with exploration of the city, our super intensive course offers an extra ten private lessons per week, which can really make the difference when it comes to your level of proficiency at the end of the course.
In order to spend your time focusing directly on your learning without having to worry about others on your course, there is a Private Spanish program available, in which you study on a one to one basis rather than in a class group. You get the full twenty lessons a week with this option, so it is definitely worth looking in to.
Do not imagine that it will be a dull and boring classroom, either – the teachers know how to make their lessons fun, but if you are looking for a little extra that you can go for our Spanish and Activities program. Here you get five extra lessons per week in the activity of your choice, bringing a whole new dimension to the course. If you want to give a little something back to the community and have enough time to spare, consider our volunteer program – with four weeks of language and four weeks of voluntary work, it would look great on any CV.