Learn Spanish in Sucre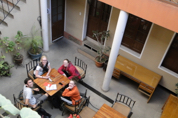 Our Spanish school in Sucre welcomes students from all over the world. It's a small, cozy center set right in the middle of Sucre.
Minimum age: 18 years old
Partner school
Location
In the heart of the city, just one block from the main plaza and close to virtually everything of interest in the city.
Facilities
Capacity of about 40 students
7 classrooms
Kitchen
2 interior patios
Small roof deck
Free internet access