The Sucre Experience
Go shopping
The nearby town of Tarabuco is known for its market of handcrafts held every Sunday, where you can view and purchase beautiful indigenous textiles.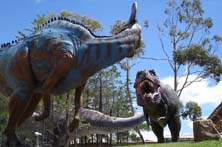 Meet "Johnny Walker"
In Cal Orck'o, you can see the fossilized footprints of several dinosaurs, amongst them a brontosaurus, a tyrannosaurus and a carosaur. Scientists have been amazed by the eleven footprints left millions of years ago by an ankylosaurus. Cal Orck'o is also home to the longest trail of dinosaur tracks in the world, a 347-meter trail left behind by the dinosaur known as "Johnny Walker".
Go museum-hopping
Sucre has a handful of small but very interesting museums spanning art, history and other topics. A few suggestions: Museo Histórico, Museo de la Recoleta, and the Museo de Santa Clara.
Soak up the atmosphere
The social heart and soul of Sucre is without a doubt the Plaza 25 de Mayo. Bordered by the Cathedral, the City Hall, the Casa de la Libertad, and several other historic buildings, it's a great spot to grab a quick snack or drink and enjoy the people watching!