Heredia Attractions & Highlights
El Fortín
Constructed in 1867, this lookout tower is all that remains of what used to be a Spanish fort. Along with being a symbol of the city, it has also been declared a national historic monument.
El Parque Central
The appropriately-named Parque Central (Central Park) is located in the center of the city and is a laid-back place to meet with friends, take a stroll or simply soak up the atmosphere people-watch. In its immediate surroundings you'll find a wealth of colonial-era buildings, restaurants and shops.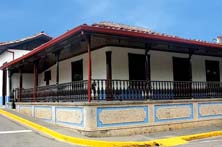 La Casa de la Cultura
This cultural center is located in the home of former president Alfredo González Flores. Stop in and enjoy this venue's permanent historic collection, rotating art exhibitions, music performanes and other events.
Iglesia de la Inmaculada Concepción
Located in the heart of the city and on the edge of the Parque Central, this lovely, historic church was built in the 1790's and boasts church bells imported from Peru and one of Costa Rica's oldest stained glass windows
Colonial architecture
Take a walk around the very center of the city and in the environs of the Parque Central to get a glimpse of what the city was like centuries ago in its colonial days. In addition to the Inmaculada Concepción Church, colonial-era buildings to look for include the Palacio Municipal (City Hall), Edificio de Correos (Post Office), the Escuela República Argentina (Argentinean School)
Braulio Carrillo National Park
Heredia is just a stone's throw from the nearly 500 square kilometers of rainforest, waterfalls, rivers, hiking trails, dormant volcanoes and tropical flora and fauna that compose the spectacular Braulio Carrillo National park.

Learn Spanish in Heredia
Spanish School in Heredia
Spanish Courses in Heredia
Heredia Accommodations
More Costa Rica Travel Guides