Coronado Guide Introduction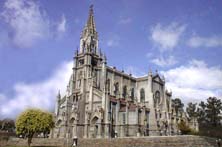 Drive just 10 km (6 miles) northeast of San Jose and you'll hit Coronado, a charming town set on the southern end of Braulio Carrillo National Park.
Coronado is home to many important institutions including the Interamerican Institute for Agriculture, the Costa Rican Olympic Committee and the Instituto Clodomiro Picado, a world-famous snake research center. Add to that its gorgeous gothic-style cathedral and abundant cafes, restaurants and markets, not to mention its proximity to country's capital, and you'll soon see that Coronado has a lively cultural scene just waiting to be discovered. Buses conveniently run to San Jose every 20-30 minutes.
Learn Spanish in Coronado
Spanish School in Coronado
Spanish Courses in Coronado
Coronado Accommodations
More Costa Rica Travel Guides
Flamingo Beach Guide
Heredia Guide
Monteverde Guide
Playa Jacó Guide