The Heredia Experience
Explore nearby villages
Using Heredia's local buses you can easily visit all sorts of nearby mountain villages. A popular excursion destination is the cute town of Barva. It dates back to 1561 and is brimming with historic 17th- and 18th-century buildings, not to mention rivers, waterfalls, trails and swimming holes.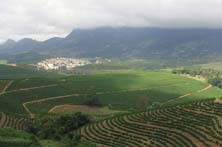 Get a birds eye view
Take some time to climb to the top of Monte de la Cruz; once at the top you'll be rewarded with unbeatable views of the city, its surroundings, coffee plantations and, in the distance, the Poas and Barva volcanoes.
Satisfy your caffeine cravings
Heredia is home to Café Britt, one of Costa Rica's best coffee producing companies. Visit the plantation for a tour and learn all about the coffee-making process while sampling coffee drinks, liqueurs and chocolates.

Learn Spanish in Heredia
Spanish School in Heredia
Spanish Courses in Heredia
Heredia Accommodations
More Costa Rica Travel Guides