Heredia Guide Introduction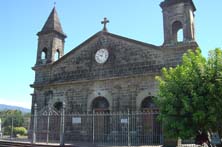 Located just 10 kilometers from the bustle of capital city San José, Heredia is a historic colonial city surrounded by spectacular volcanoes and lush, verdant vegetation. Founded in the 1580's as the town of Cubujuquí, Heredia spent a stint under the name Villavieja before taking on its present name in 1763.
As a Spanish colonial city, Heredia was home to the Spanish aristrocracy, who made their millions exporting Costa Rica's excellent coffees. The Spaniards built a lovely city of orderly streets, charming colonial buildings and attractive open spaces. Een today Heredia conserves its small city atmosphere and charming colonial elegance.
Along with a gaggle of sights of great historical and architectural value, Heredia also serves as an excellent jumping board for a wide range of excursions and activities: mountain villages, hiking, kayaking, national parks and much more. What are you waiting for? Discover Heredia today!
Learn Spanish in Heredia
Spanish School in Heredia
Spanish Courses in Heredia
Heredia Accommodations
More Costa Rica Travel Guides