Visit Heredia During...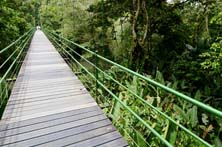 When it comes to the weather, temperatures range between 75ºF and 80ºF all year round. So putting temperature aside, Heredia - along with the majority of Costa Rica has two seasons: rainy season and dry season.
Keep in mind when booking your travels that the rainy season is from May to mid-November; the adventage of traveling to Costa Rica during the rainy season is that you catch the vibrant colors of the country's stunning nature at their peak. Dry season lasts from mid-November until April and is a great time of year if you want minimal rain and mostly sunny days.
Our suggestion? Go in December or January. The weather will be sunny and mostly clear, yet it's soon enough after the rainy season to see the lush nature of Costa Rica at its colorful best.
Learn Spanish in Heredia
Spanish School in Heredia
Spanish Courses in Heredia
Heredia Accommodations
More Costa Rica Travel Guides