Flamingo Beach Guide Introduction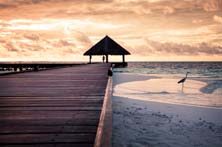 Playa Flamingo is set on the Pacific coast of Costa Rica in the province of Guanacaste. A paradise of lush vegetation and crystal clear waters, Flamingo Beach is the perfect place for students to enjoy a relaxing beachside vacation while perfecting their Spanish.
Despite Playa Flamingo's modest size, it's impossible to get bored here, with a plethora of nearby beaches to explore and exciting activities like water sports, scuba diving, canopy tours, deep sea fishing, golf, horseback riding, boat safaris, hiking in the nearby national parks, and observation of night turtle nesting.
If you want to learn Spanish in Latin America whilst surrounded by white sand beaches, pristine water and an eco-wonderland at your doorstep, Flamingo Beach is the place for you!
More About Flamingo Beach
Learn Spanish in Flamingo Beach
Spanish School in Flamingo Beach
Spanish Courses in Flamingo Beach
Flamingo Beach Accommodations
More Costa Rica Travel Guides