The Bariloche Experience
Hit the slopes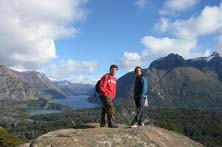 As soon as the flakes start to fall, Bariloche becomes a ski town. The city is less than 20 kilometers from Cerro Catedral, the biggest ski resort in South America, and has top-notch installations for skiers and snowboarders of all levels. Cerro Otto, also located near Bariloche, is a favorite for cross-country skiing.
Hit the beach
Summers in Bariloche are warm and sunny, and the fascinating lakes of Patagonia make for a relaxing and extremely scenic beach destination. Favorites include Playa Bonita, Playa del Centenario, Playa Bahía Serena, Playa del Lago Gutiérrez
Hike and climb
The unspoiled nature of the Argentine Patagonia makes for incredible active excursions of all kinds, ranging from hiking and trekking to rock-climbing, bird-watching and mountaineering. If you are inexperienced, consider a guided excursion; there are tons of great excursion companies in Bariloche.
Go fishing
The vast lakes and fast-flowing rivers of the Nahuel Huapi National Park are unbeatable spots for a fishing excursion, whether on your own or with a guide. Species of trout and salmon are abundant and if you're looking for the perfect blend of nature and peace then you're in the right place.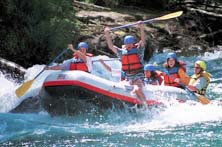 Kayaking, canoeing & rafting
Along with fishing, the rivers and lakes are also wonderful places to engage in water activities like canoeing, rafting and kayaking. Whether you're looking to get the adrenalin going with a wild whitewater rafting excursion or relax and enjoy the views while paddling along a lake in a kayak, there's something for every type of boater.
Learn Spanish in Bariloche
Spanish School in Bariloche
Spanish Courses in Bariloche
Bariloche Accommodations
More Argentina Travel Guides