Bariloche Attractions & Highlights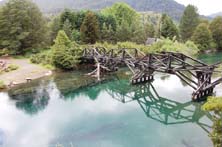 Nahuel Huapi National Park
Believe it or not, Bariloche is actually within this huge national park, also Argentina's oldest. The park is famous for its serene lakes, fast-flowing rivers, rich wildlife, forests, incredible scenery and wonderful opportunities for outdoor activities- hiking, skiing, kayaking, birding, etc.
Chocolate
Bariloche's chocolate, handmade and incorporating local products, is famous around the world. The city is packed with chocolate shops with mouthwatering shop windows... You'll be hard-pressed to say no!
Catedral Nuestra Señora del Nahuel Huapi(Our Lady of Nahuel Huapi Cathedral)
Bariloche's beautiful Neo-Gothic stone cathedral.
Centro cívico(City center)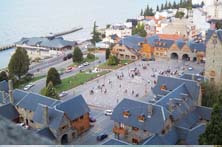 Bariloche's enchanting city center, with its stone and wood buildings and picturesque archways, is the most typical part of the city. The Swiss-style center is built in the shape of a horse-shoe around a plaza, which looks over the Nahuel Huapi lake.
Circuíto chico(Small circuit)
The Circuíto chico is a popular 65-kilometer scenic route that for the most part goes around the Nahuel Huapi lake. Incredible views, stunning landscapes, numerous look-out points, access to footpaths, etc. Great for a scenic ride by car, bus or bike.
Cerro Catedral(Mount Catedral)
Cerro Catedral, located less than 20 kilometers from Bariloche, is the biggest ski resort of the southern hemisphere and without a doubt the hub of the city's winter activity.
Learn Spanish in Bariloche
Spanish School in Bariloche
Spanish Courses in Bariloche
Bariloche Accommodations
More Argentina Travel Guides