Spanish Courses in Bariloche, Argentina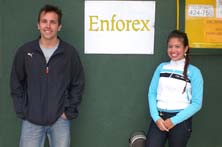 Bariloche is the perfect place to study if you do not mind the cold and love the great outdoors. The city itself is beautiful, and temperatures can actually rise as high as 22'C during the summer – so when we said cold, we meant cold by Argentine standards! With Swiss style architecture, a plethora of bars and chocolate shops, and a breath taking backdrop of snow capped mountains and glaciers, this is a great place to go to simply appreciate nature – or to get a little more involved in it!
The following Spanish courses are available in Bariloche:
Spanish Courses in Bariloche, Argentina
You can enjoy a great number of activities outside of our Spanish courses in Bariloche. The most popular is the enjoyable persuit of skiing, as the view out over the city and the perfect Nahuel Huapi lake is absolutely stunning as you speed down the slopes. That is not all you can try, however – you can go rafting or fishing at the lake, or even diving off the coast if that appeals to you more. You can try trekking or biking to explore the gorgeous natural surroundings of the city, or try some rappelling or birding – or any number of other activities that can be enjoyed in this picturesque setting.
Of course, the 100,000 local residents will be more than happy to help you practice your language, so there will be plenty of new people to meet and friends to make. Speak to the right people and you could get your own personal tour of the amazing wildlife of the area – your holiday snaps will be unrivalled by any of your friends' after a trip to find some of the amazing fauna of the region.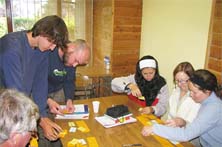 The Enforex language school in Bariloche is right in the middle of downtown, in a cosy log cabin-style building that will insulate you from the snow in the winter. Of course, the teaching professionals there uphold our normal high standards, and they teach the same syllabus as every other school run by us – so you have nothing to lose by choosing Bariloche as your language course destination.
We offer four of our most popular programs in Bariloche – the intensive group course is one of our most attended throughout all of Latin American and Spain, and the draw of private lessons can also be a huge one for those wanting to learn quickly and efficiently. We also offer our much celebrated super intensive and immersion courses, which have been proven to be some of the most effective Spanish courses available on the market.