Spanish recipe: Chorizo in Asturian cider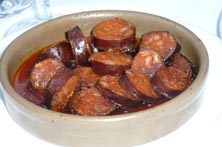 Sweet and refreshing cider is often used as an ingredient in tasty recipes, especially in the north of Spain, where the drink is extremely popular. Perhaps the best known among such dishes is this special dish from Asturias, very popular in tapas bars for its simplicity and excellent reception among diners.
To make this dish, all you need is fresh little chorizo sausages (we estimate about three or four per diner) and unfiltered cider.
As you know, Spanish sausages come tied in strings, so the first thing you have to do is separate them. Once you have done this, poke each one with a fork so that they don't burst and lose their juice when they're cooked.
Put the sausages in a large pot and then pour in the cider until they are covered. Place them on high heat for five minutes, then turn it down to medium heat and let them cook for 15 to 20 minutes. After this, all that's left to do is to serve them in a clay pot with the cider and sauce, which will be enhanced by the chorizo's ​​natural juices.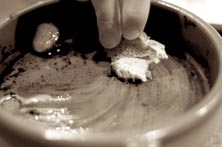 This simple Spanish recipe can easily be varied: there are some people that fry the sausages after cooking them, ("traditionalists" however say doing this is like sterilizing them), others serve the dish with baked potato slices in the bottom of the clay pot, and some replace the cider with wine. There you have the various options, so try whichever one you think sounds best... Or why not make them all?!