Visit Córdoba During...
Autumn (March - May)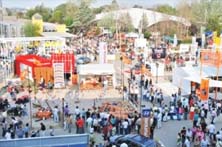 Autumn is a lovely time of year to visit Córdoba, thanks to pleasantly warm temperatures and mostly sunny days. Plus, in April Córdoba hosts a huge, three-week handcraft market known as the FICO (International Fair of Córdoba) MERCOSUR. It's held in the city's fairgrounds and is a wonderful opportunity to see and buy amazing crafts and artwork from throughout Argentina.
More Argentina Travel Guides