Spanish Courses in Cordoba, Argentina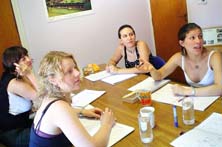 There are some great options for enrolling into Spanish courses in Cordoba. Although Buenos Aires may be the capital, it does not have a monopoly on Argentine charm and culture, as this beautiful city demonstrates. The school is located downtown in a convenient area, just five minutes away from the city's main square, the Plaza de San Martin. Any learners from the age of eighteen are welcomed, and you can enjoy a huge swimming pool in the back garden as well as a roof deck that allows you to take a look out over the magnificent views of the city. If you want to learn in style, this is certainly the place to do it – and it certainly helps that there are less tourists here than in the busy Buenos Aires, meaning you will be able to practice your language skills with the locals!
In our opinion, there few places to learn Spanish in Latin America as fun, convenient, and full of experience like Cordoba. The following courses are available in Cordoba. Click on the course you're interested in to see more details.
Spanish Courses in Córdoba, Argentina
The social scene in Cordoba is not lacking anything, by the way – you will find amazing night life if you look for it, as a prestigious university brings a steady stream of students and their friends to the city from all over Argentina. The landscape around the city is beautiful, consisting of valleys, lakes, and rivers winding their way across the countryside, and you will be able to take in some interesting historical buildings too.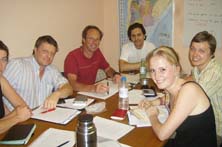 You can take the most popular of the Enforex Spanish programs in Cordoba – you will have access to the intensive and super intensive courses that have proved to be so effective in increasing learning speeds, while if you like the idea of private lessons to help you really focus on your language you will be in good hands. There is no need to settle just for learning Spanish during your adventure here, either – you can combine your courses with lessons in tango or salsa to really get your body moving, in a fun and energetic program that will leave feeling refreshed and revitalised. Imagine the surprise on your friends' faces when you return with not only the ability to speak Spanish, but also the moves of a Latin dancing pro to go with them! You could also take part in our two-month volunteer program if you have enough time to spare, which combines four weeks of Spanish lessons with four weeks of practice as you work amongst the community in Cordoba, giving back something to the city that has given you a new language.