Places To Visit In Córdoba
When you come over to Argentina to learn Spanish in Cordoba it isn't all about keeping your head down in the classroom. There are plenty of beautiful attractions to visit around the city, many of which are unlike anything you've ever seen!
Manzana Jesuítica(Jesuit Block)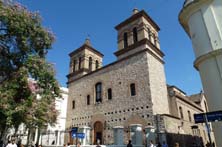 Located in the center of Córdoba, this beautiful city block, declared a World Heritage Site by UNESCO, boasts numerous colonial buildings built in the 17th and 18th centuries by the Jesuit missionaries. Here you'll find such important buildings as the Compañía de Jesús Church, the Residence, the Monserrat School, the Doméstica Chapel and the University of Córdoba.
Catedral(Cathedral)
Córdoba's centrally-located cathedral, whose construction began in 1577, took over two centuries to build and alternated between Jesuit and Franciscan architects. While it lacks a uniform style, the building is a lovely example of Spanish colonial architecture.
Plaza San Martín(San Martín Square)
This lively and pretty central square of Córdoba dates back to 1577 and is bordered by several historic colonial buildings from the 15th through 17th centuries: the Carmelite convent, the Santa Teresa Church, the Bishop Mercadillo's House and the City Hall.
Museums
Córdoba has a handful of interesting museums definitely worth a visit. Our recommendations include the Museo Histórico Provincial Marqués de Sobremonte (Marqués de Sobremonte Provincial History Museum) and the Museo Municipal de Bellas Artes Dr. Genaro Pérez (Dr. Genaro Pérez City Museum of Fine Arts) and the Museo Provincial de Bellas Artes Emilio Caraffa (Emilio Caraffa Museum of Fine Arts).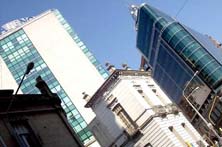 Nueva Córdoba(New Córdoba)
In the early 1900's, this part of town was home to the city elite. The neighborhood is now home to the university crowd and student residences, though you can still explore traces of Córdoba's early 20th century aristrocracy.
Palacio Ferreyra(Ferreyra Palace)
The magnificent Palacio Ferreyra, one of Córdoba's landmark buildings, was built in 1900 in the Louis XVI style. It's located in the Nueva Córdoba district and, since 2007, is home to a collection of art.
Güemes
Once a working-class neighborhood, nowadays it's an eclectic neighborhood of weekend craft markets and numerous shops selling antiques, handcrafts and artwork.
More Argentina Travel Guides