Trinidad Attractions & Highlights
Casco Histórico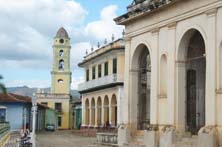 While many of the sights listed on this page are within this neighborhood, the Casco Histórico - or Old Town - is a local attraction in itself. Quaint and compact, it's brimming with old cobblestone streets, elegant plazas and beautifully restored colonial houses and buildings painted in a wide array of pastel colors. The 19th century economic decline that came with the collapse of hte sugar industry was a blessing in disguise, as the city didn't have the funds to modernize or develop its cityscape, which naturally would have obscured or destroyed what is considered one of the best-preserved colonial nuclei in the Americas
Plaza Mayor
This serene and elaborately decorated neo-Baroque main square is located at the very heart of the Casco Histórico and is a peaceful spot of shaded benches, palm trees and gardens.
Iglesia Parroquial de la Santísima Trinidad
This lovely 19th century church, built on the site of a former church, is located on the northeastern edge of the Plaza Mayor and contains a vast array of valuable sacred objects. While its exterior is rather simple, just walk inside for a breathtaking interior of vaulted Gothic ceilings, elaborate altarpieces and the Christ of the True Cross, which dates back to 1713.
Palacio Brunet
This colonial-era mansion dates back to 1740 and is one of the most evocative reminders of Trinidad's glory days when it enjoyed the wealth generated by the sugar industry. It now houses a museum - the Museo Romántico - which has an good display of 19th century furniture, china and other period pieces.
Museo de la Arquitectura Trinitaria
Located on the southeastern side of the Plaza Mayor you'll find this museum, housed in two 18th century houses (1738 and 1785) that were joined years ago. Inside you'll find an interesting museum of upper-class architecture of the 18th and 19th centuries.
Museo Nacional de la Lucha Contra Bandidos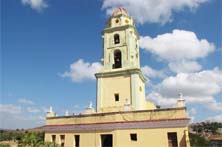 Easily one of the city, this museum is housed in the former Convent of San Francisco de Asís that, with its picturesque yellow bell tower, is most likely Trinidad's most recognizable building. The museum inside features all sorts of maps, weapons, photos and other objects related to the nearly decade-long struggle against the counter-revolutionaries that operated in the nearby mountains during the years immediately following Fidel Castro's government takeover.
Valle de los Ingenios
This UNESCO World Heritage Site is a series of three valleys that were home to Cuba's sugar production during the 18th and 19th centuries. Up to 70 sugar mills and plantations - not to mention the 30,000 slaves that worked in them - were in operation during the peak of the sugar industry. Many of the old facilities throughout the valleys are in ruins, but head over to the Manaca-Iznaga sugar estate. Here, several remnants of the sugar industry's glory days remain, including the old manor house, some slave quarters and a 45 meter tower whose bell used to signal the start and finish of the slaves' work day.