Introduction to Santiago de Cuba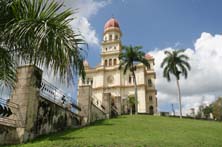 With 420,000 inhabitants, Santiago de Cuba is the country's second largest city and Havana's long-time rival in literature, music and politics. Known as the 'most Caribbean' of Cuban cities, its residents of Haitian, African, Spanish and French descent are bound by their widespread reputation as happy, hospitable, laid back people.
Located on the southeast end of the island, Santiago maintains a Spanish colonial feel without the imposition of 1950s American high-rises typical to Havana. You can enjoy beautiful beaches year-round and stroll through the large, natural harbour that has made Santiago an important port city for almost five centuries.
More About Santiago de Cuba