Introduction to Trinidad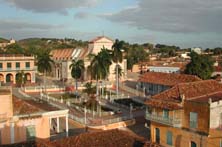 Colonial powerhouse, UNESCO World Heritage Site, vital port, small, friendly city: Trinidad is all this and more. Located in central Cuba between the Caribbean sea and Sierra del Escambray, this historic area holds the most finely preserved colonial architecture on the island.
In Trinidad you'll find yourself transported to another era where horse-drawn carriages clack along the Playa Mayor and charming street scenes and warm faces abound. Formerly the center of the sugarcane industry, the city's activity now hinges on tobacco processing.
With a population of under 75,000, Trinidad is an intimate, isolated destination perfect for immersion in Latin America for the very best experience of the Spanish language and Cuban culture.