Accommodations in Sucre
There are two different accommodation options to choose from when you choose to study Spanish in the Bolivian city of Sucre:
Host Families (single room, half board)
Student Residences (single or double room, no meals)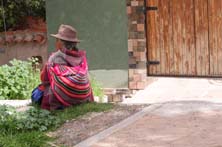 The host family accommodation in Sucre includes half board, private room, bathroom and laundry service once a week. Your home will be in a neighborhood no more than a 20 to 30 minute walk from school whenever possible.
Your will live with a carefully selected, middle-class family. It's important to note, however, that the standard of living in Bolivia is significantly lower than in North America or Europe. You can count on a cozy, welcoming environment, but at the same time, be prepared and open to adapting to Bolivian customs and way of life.
When you opt to live in a student residence in Sucre, you will have the chance to meet local and international students while residing in a single or double room. Here, you'll enjoy a greater degree of independence and cook your own meals. If you'd like to discover new cultures and faces from around the world whilst on your Spanish course, and making friends in a mixed environment, then this is your best bet!